Innovation In Motion
When it comes to the world of midsize sedans, few names carry as much weight as Nissan. A symbol of reliability, innovation, and outstanding performance, Nissan has consistently delivered vehicles that cater to a broad spectrum of drivers. And in the heart of Warminster, Pennsylvania, O'Neil Nissan proudly presents a comprehensive exploration of the 2024 Nissan Altima, a midsize sedan that's poised to redefine the art of driving. 
In this extended review, we will delve deep into the heart of the 2024 Nissan Altima, exploring its performance capabilities, stylish design, advanced technology, and its unwavering commitment to safety. The Altima is more than just a vehicle; it's a testament to Nissan's promise of value, fuel efficiency, and cutting-edge technology, seamlessly combined in a package that offers an exceptional driving experience. Whether you're a dedicated Nissan enthusiast or simply seeking a dependable new vehicle, the Altima aims to supercharge your life with exhilarating performance, a refined style, and contemporary technology that caters to your daily needs.
 Performance That Thrills
Let's start with the most exhilarating aspect of the 2024 Nissan Altima – its performance. This midsize sedan is engineered to impress, and it all begins with a range of remarkable engine options.
Engine Options:
The 2024 Altima offers a selection of engines that cater to a wide variety of driving preferences. The base engine is a 2.5-liter 4-cylinder engine, producing a respectable 188 horsepower. However, for those seeking an extra dose of excitement, the Altima SR model boasts an available 2.0-liter Variable Compression Turbo engine, delivering a punchy 248 horsepower. This range of powertrains means that whether you're seeking an efficient daily commuter or a spirited driver's car, the Altima has you covered.
Variable Compression Turbo Engine:
The true star of the Altima's powertrain lineup is the innovative 2.0-liter Variable Compression Turbo engine. Unlike conventional engines with fixed compression ratios, this groundbreaking technology allows the Altima's engine to adapt continuously. The result? An ideal balance of power and efficiency, ensuring that every drive is both thrilling and fuel-efficient. The Altima's Variable Compression Turbo engine demonstrates Nissan's commitment to pushing the boundaries of automotive engineering, promising an unmatched driving experience.
Fuel Efficiency:
Performance is just one part of the equation; fuel efficiency is equally vital. The 2024 Altima shines in this regard, boasting an impressive 27/39 MPG (City/Highway). This means you can enjoy a powerful and engaging drive without constantly worrying about pit stops at the fuel pump. Whether you're navigating the daily commute to work, embarking on a cross-country road trip, or simply exploring the picturesque landscapes around Warminster, the Altima's efficiency stands out.
Intelligent AWD - Confidence in Any Condition
Warminster, Pennsylvania, and its surroundings experience a variety of weather conditions throughout the year, from mild summers to snowy winters. This is where the Altima's Intelligent All-Wheel Drive (AWD) system comes into play.
Intelligent AWD System:
The Altima's Intelligent AWD system is designed to provide drivers with the confidence to tackle any terrain or weather conditions. It continuously monitors road conditions and responds swiftly to provide traction where it's needed most. Whether you're navigating the winding roads of Pennsylvania or dealing with challenging winter conditions, the Altima's AWD system enhances your control and ensures you keep moving forward.
The AWD system doesn't just come into play when conditions are challenging. It also contributes to improved handling and traction during spirited drives, offering a level of engagement and control that drivers appreciate.
 ProPILOT Assist - Your Co-Pilot for Safer Travels
Safety is paramount when it comes to automotive design, and Nissan prioritizes it in all their vehicles, including the Altima. The 2024 Altima features an advanced ProPILOT Assist system that takes safety to a whole new level.
ProPILOT Assist System:
ProPILOT Assist is a driver assistance system that acts as a co-pilot, enhancing your safety and reducing the stress of driving. It encompasses several features, including:
Intelligent Cruise Control: This feature helps you maintain a safe following distance from the

vehicle

in front of you. It can adjust your speed based on traffic flow, bringing your

Altima

to a complete stop and accelerating again when necessary.

Lane Keeping Assist: ProPILOT Assist helps you stay centered in your lane, providing subtle steering inputs to keep you on track.

Traffic Jam Pilot: This feature works in stop-and-go traffic, significantly reducing the physical and mental strain of commuting.

Steering Assist: The system can apply steering inputs to keep your

Altima

centered in the lane even on gentle curves.

Traffic Sign Recognition: It can recognize and display traffic signs, including speed limits and passing zone information.

Blind Spot Warning and Rear Cross Traffic Alert: These features work to keep you safe from potential collisions by monitoring your blind spots and alerting you to approaching

vehicles

when reversing.
The Altima's ProPILOT Assist system is like having an extra pair of eyes on the road, enhancing safety and ensuring that you have the latest in advanced driving assistance at your disposal.
 Premium Interior and Intelligent Technology
The 2024 Altima isn't just about performance and safety; it also provides a premium and comfortable interior that caters to both the driver and passengers.
Interior Features:
The interior of the Altima exudes an air of refinement. Matte chrome-tone accents and available carbon-fiber design trim lend the cabin a premium look and feel. If you're someone who enjoys the tactile experience of your vehicle's interior, you'll appreciate the attention to detail in the Altima. Available leather-appointed seats provide a luxurious touch and a high level of comfort, ensuring a pleasant journey every time you step into the car.
Technology Features:
The 2024 Altima is equipped with cutting-edge technology, elevating your driving experience to new heights. The centerpiece of the tech features is the available 12.3-inch color touch-screen display. This intuitive interface keeps your maps, music, and various other functions within easy reach, reducing distractions and improving your ability to focus on the road.
The Altima also boasts voice recognition, allowing you to control various car functions without taking your hands off the steering wheel. Whether you need directions, want to change the music, or send a message, you can do so with ease and convenience.
 Safety Shield 360 - Your All-Around Protector
Nissan's commitment to safety is clearly evident in the Altima. It comes equipped with the Safety Shield 360 system, a comprehensive suite of safety technologies designed to protect you and your passengers from all angles.
Safety Shield 360 Features:
This system offers a wide range of features that work together to provide a holistic safety experience. Some of the key components include:
Automatic Emergency Braking with Pedestrian Detection: This feature helps prevent collisions by applying the brakes when pedestrians are detected.

Blind Spot Warning: It alerts you when a

vehicle

is in your blind spot, reducing the risk of lane-change collisions.

Rear Automatic Braking: This system assists with parking and backing up, detecting stationary objects and applying the brakes if necessary to prevent collisions.

Rear Cross Traffic Alert: When you're reversing, this feature warns you of

vehicles

approaching from either side.

Lane Departure Warning: It alerts you if you unintentionally drift out of your lane.

High Beam Assist: This feature automatically switches between high and low beams for optimal visibility.
The Altima's commitment to safety isn't just about preventing accidents but also about mitigating their impact. In the unfortunate event of a collision, the Altima's airbag system, including front, side-impact, and roof-mounted curtain airbags, ensures the safety of all occupants.
 Elegant Design - Aesthetics Meets Functionality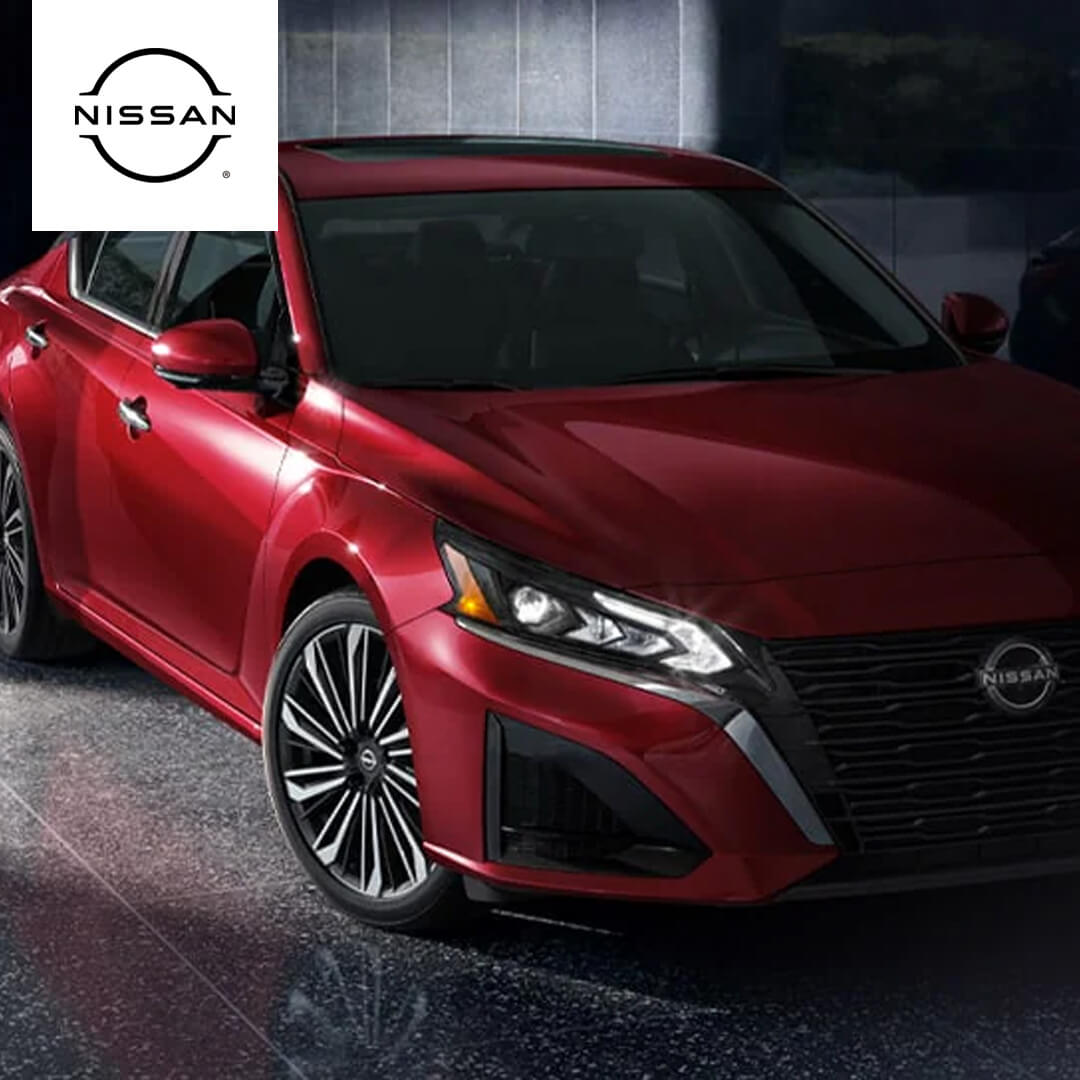 The 2024 Altima's design philosophy is a perfect blend of aesthetics and functionality. Its sleek and dynamic exterior combines form and function to deliver a visually striking midsize sedan.
Exterior Design:
Nissan's V-Motion design language is prevalent in the Altima, giving it a distinctive and memorable appearance. Its bold front grille, flowing character lines, and available LED headlights and taillights create a cohesive and elegant look that stands out on the road.
The Altima's design isn't just about looks; it also contributes to its aerodynamic efficiency. The sleek body contours minimize wind resistance, improving fuel efficiency and handling. These design elements work together to enhance performance, reduce road noise, and improve overall driving comfort.
Interior Design:
Inside the Altima, the design philosophy continues with a focus on driver and passenger comfort and convenience. The driver-centric cockpit provides intuitive access to essential controls, while also reducing distractions. The rear seats offer ample legroom and headroom, ensuring that passengers are comfortable on even the longest journeys.
The design of the Altima isn't just about aesthetics; it's a testament to Nissan's commitment to creating vehicles that make life easier and more enjoyable.
 Trim Levels: Tailored to Your Preferences
Nissan understands that every driver has unique preferences and requirements. To cater to this diversity, the 2024 Altima offers a variety of trim levels, each with its own set of features and characteristics.
The base trim level, Altima S, is anything but basic. It comes with a range of standard features, including the 2.5-liter 4-cylinder engine, the 8-inch touch-screen display, and the Safety Shield 360 suite.
The Altima SV builds on the S trim, adding features like the available AWD system and a power moonroof for an added touch of luxury.
The Altima SR is perfect for those seeking a sportier experience. With the available 2.0-liter Variable Compression Turbo engine, a sport-tuned suspension, and unique design elements, the SR is designed for drivers who want a more spirited and engaging ride.
For a more luxurious experience, the Altima SL includes leather-appointed seats, a 12.3-inch touch-screen display, ProPILOT Assist, and more.
 A Dependable Legacy
For many, choosing a vehicle isn't just about the features and capabilities of the car itself; it's also about the reputation and legacy of the manufacturer. Nissan has a long history of delivering reliable, durable vehicles that stand the test of time.
Nissan has been a stalwart in the automotive industry for over eight decades. With a focus on innovation, quality, and customer satisfaction, Nissan has consistently been at the forefront of technological advancements in the automotive world. Over the years, the company has earned a reputation for producing vehicles that are dependable and built to last.
Warranty and Service:
When you choose a Nissan Altima, you're not just purchasing a car; you're also investing in the support and service that comes with it. Nissan provides a competitive warranty and robust service network to ensure that your Altima continues to perform at its best. Nissan's commitment to excellence extends to their service, making it easy for Altima owners to keep their vehicles in top condition.
As our journey through the 2024 Nissan Altima comes to a close, it's important to remember that this sedan is more than just a vehicle; it's a complete driving experience. With impressive engine options, innovative technology, comprehensive safety features, and a stylish design, the Altima sets a high standard for midsize sedans.
If you're seeking a reliable, stylish, and tech-savvy midsize sedan, the 2024 Nissan Altima is an excellent choice. Visit O'Neil Nissan today to explore this exceptional vehicle and take it for a test drive. Let the Altima elevate your driving experience and provide you with years of dependable service. Whether you're driving through the streets of Warminster or embarking on a grand adventure, the 2024 Nissan Altima is the perfect companion, designed to meet and exceed your expectations.
Nissan has always been committed to providing innovative solutions for drivers worldwide, and the 2024 Altima is a testament to this ongoing dedication. Come experience the future of driving – come experience the 2024 Nissan Altima.